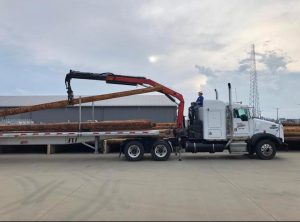 Carrier Packet
Service to over 1000 active Carrier Clients
Flatbed and Dry Van truckload freight from more than 500 contracted shippers,
Payment in 20 days or less upon receipt of invoice. All carriers will be paid by direct deposit.
(7-day pay available for a 4% fee)
We provide our Carrier Clients over 10,000 loads a year.
The Brokerage Department is managed and staffed to support our bi-modal structure (dry van and flatbed). All carrier capacity is pre-planned and dispatched with the same concern for safety, service, productivity, and profitability as our company capacity. Our name Frontier Leasing, Inc. indicates the method used to develop our carrier base of almost thirty years ago by "trip leasing" to small carriers with their own authority. After acquiring Brokerage Authority in 1986, we continued to grow our carrier capacity to the current level of over 1,050 active carriers (both dry van and flatbed). Since over 70% of the registered motor carriers in the United States operate 4 trucks or less, this has been our target market for additional capacity. Many of our carriers have been with us for over a decade and well over a dozen haul exclusively for our customers. Our Brokerage Operations staff is segmented into dry van and flatbed divisions in order to provide the expertise and attention to detail required for both segments of business.
Need something else?  Contact Us